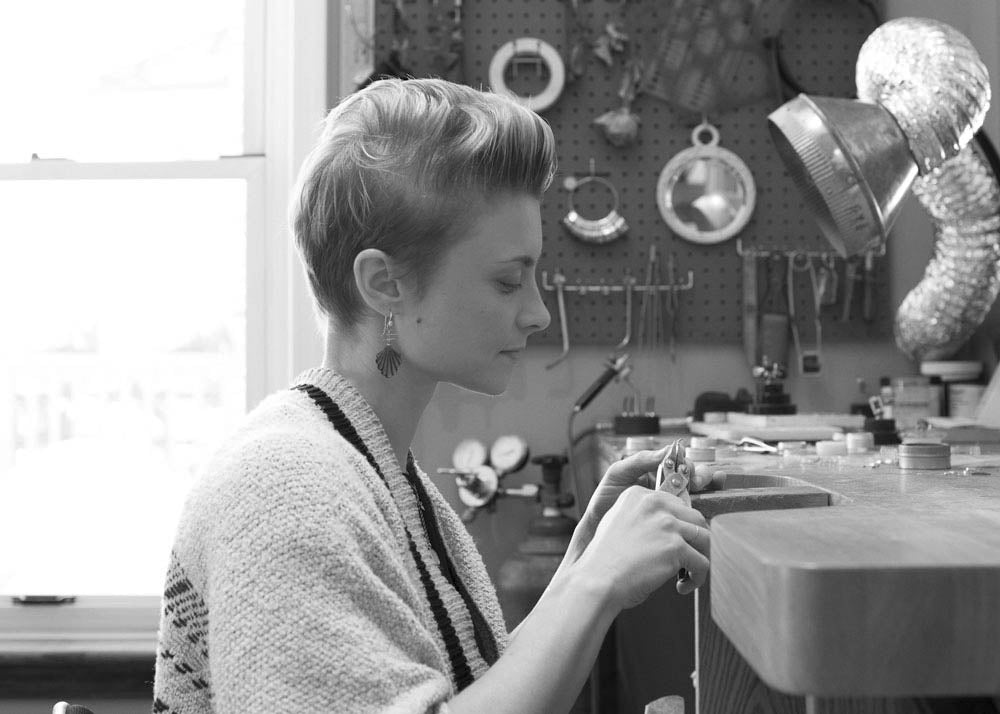 Monika Krol
Monika describes her relationship with jewelry as a love affair in three parts: 
My love affair with jewelry started with making: Using my hands and fabricating… manipulating metal and soldering it together… working with a select assortment of traditional tools… There's a creativity required for both dreaming up unique designs and problem solving to accomplish them, such satisfaction in making a well crafted object. The zen of the studio – to be completely absorbed in a task with my hands and head busy – is restorative. 
The love affair continues with materials: Luscious 18k yellow gold and how dreamy it is to work with, incredible and unusual gemstones – picturesque, glowing, or sparkling – each ingrained with a "feeling" or telling a little story. And half the fun is seeking them out, being "on the hunt" to find precious treasures that need a home, a perfectly fit setting. 
The third stage of the love affair is the finished piece, the created object venturing out into the world to be treasured and adored. There's something powerful about a precious and beautiful small object that can fit in the palm of the hand and be used to adorn oneself. The meaning that it can take on – to celebrate or commemorate a person or time in life, to bear joy or sorrow… or both. Worn on the body, kept close to the heart, carried at all times – it's intimate and personal. It is art for the body. 
About Monika's line: Inspired by stunning, unusual gemstones and 18 karat yellow gold, my designs are clean with an emphasis on the gemstones, which I complement with touches of vintage-inspired details (such as bails reminiscent of watch fobs). The forms are modest in design but clever in their kinetic fabrication: For instance, the lyre starts as separate pieces, all carefully assembled to allow movement. I balance a modern look of clean lines and skilled craftsmanship with my appreciation of all things past – from my classic tools and techniques to inspiration for elements of my designs. It is my passion to create beautiful and well-crafted jewelry to be worn and gifted with intention, to take on meaning and to become future heirlooms.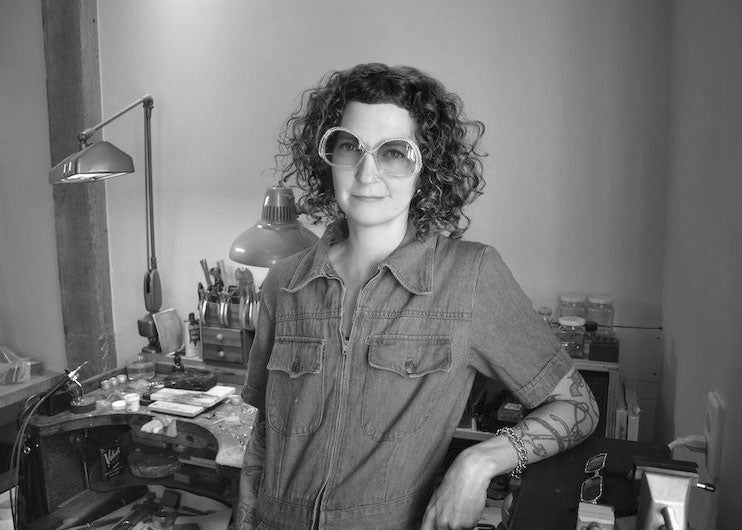 Lola Brooks
Lola Brooks is an artist, metalsmith, clotheshorse, and sometimes writer who studied fashion at Pratt Institute but quickly found herself drawn to the metals studio and the possibilities that the intimate scale of jewelry presented. Deciding to pursue jewelry full-time, she earned her BFA in metals from SUNY New Paltz. Fascinated by jewelry as a cultural signifier, she is influenced by historical jewels, which were often imbued with meaning far beyond the mere physicality of the object. She finds inspiration in the Victorian obsession with death and sentimentality, the Arts and Crafts movement, and the American art jewelry movement that followed World War II when artists resurrected an appreciation of the handmade and rejected principles of mass production. She is driven by her never-ending search for the rich variety of strange and beautiful materials she collects and her love of making beautiful things by hand.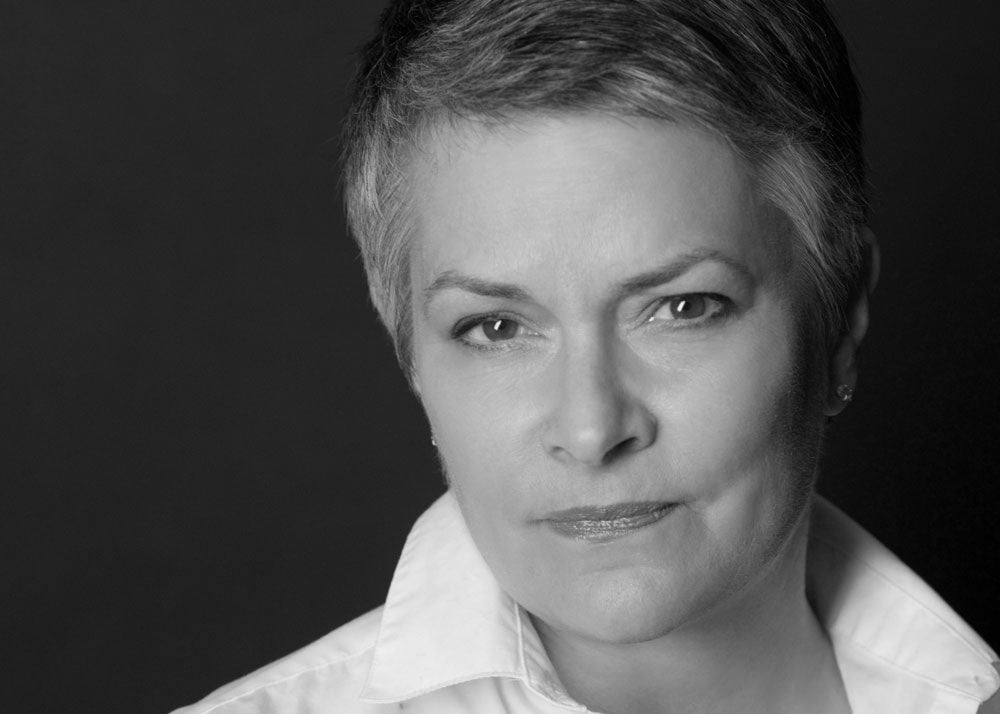 Rosanne Pugliese
Rosanne Pugliese's passion for jewelry making  started in the midst of a career in the fashion world. She was greatly influenced while designing for Calvin Klein, honing her eye for choosing luxurious, sensuous materials and using them in clean, modern and sculptural forms. While still inspired by the modern design movement, Rosanne's best ideas come from spending time at the workbench combining the metal and gems until she finds that balance of lightness and fluidity that she wants the jewelry to convey.
Shop rosanne's work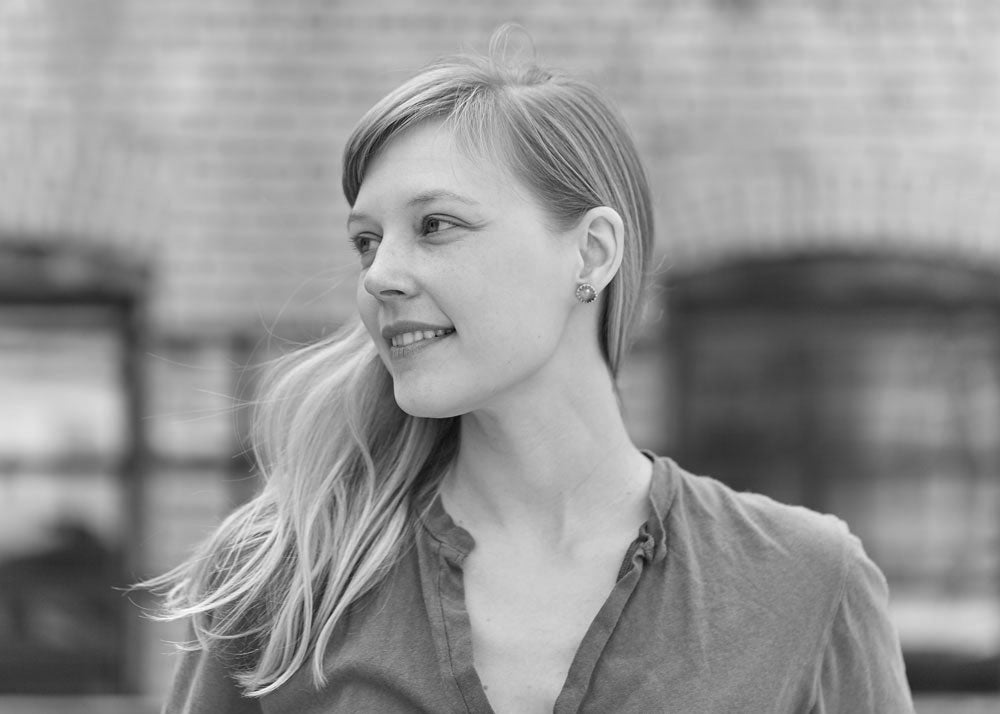 Hannah Blount
The daughter of a fisherman and a seamstress, Hannah was raised in the tradition of hand skills, hard work, and dedication. In their weathered island home, she and her six siblings learned how to entertain themselves amidst the chaos that comes with such a large family. The dingy fishing paraphernalia that littered their backyard was a playground of inspiration: gritty snapshots of beauty against the clean backdrop of their hometown of Nantucket. These familiar moments inspired her to create beauty of her own. Over the following years she has created a body of work that encompasses an organic and refined aesthetic. She is currently working out of her studio in New York, and selling her jewelry in various boutiques and galleries across the country.
Shop Hannah's Work
mixing nautical and traditional motifs with unusual gems for edgy, earthy elegance 
SHOP hannah's work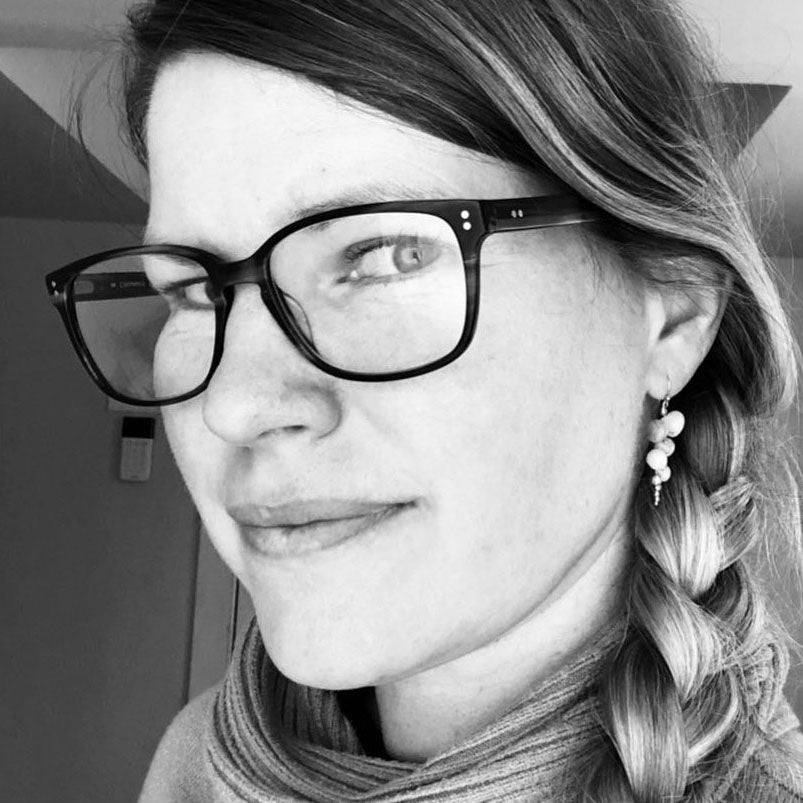 Rachel Atherley
Rachel Atherley was born and raised in the magnificent Rocky Mountain region of Montana. Inspired by the beauty that the natural world provides, Rachel is constantly reinterpreting forms and patterns found in nature into sterling silver and gold with hand-selected gemstones. Natural shapes, patterns, and silhouettes combined with the strength and movement of metal allow her work to have a timeless sensibility through a modern perspective. Each piece is thoughtfully constructed in her Hudson Valley, New York, studio with an expertise that ensures every hallmarked creation will be a coveted family heirloom. Rachel's work allows the wearer to showcase her or his own individuality through the abstract shapes and structures derived from nature. She received her BFA in Metalsmithing from Montana State University in Bozeman, Montana in 2002 and her MFA in Metalsmithing from SUNY New Paltz in New York in 2005.
SHOP RACHEL'S WORK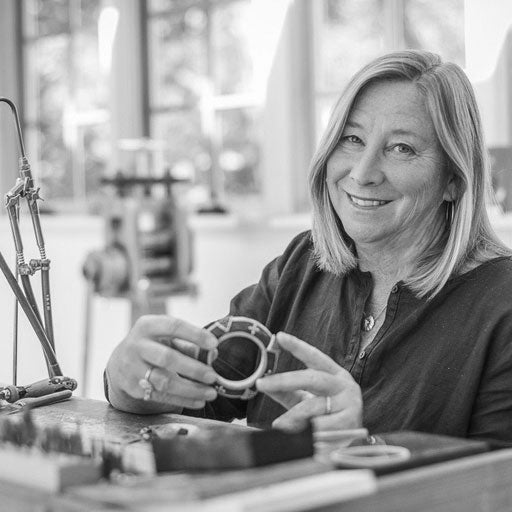 Mimi Favre
Mimi Favre creates elegant artistic fine jewelry from her studio on Philadelphia's fabled Main Line. A classically trained goldsmith, she creates jewelry from signature settings and components and selects gemstones from her carefully curated collection. Mimi realized her passion early in her career. After attaining a BFA in metals from Rochester Institute of Technology, Mimi further honed her skills working with German master jewelers and New York luxury jewelry houses, where she made new jewels from designers' renderings and restored exquisite estate pieces. Mimi's life-long interest in the decorative arts and attunement to natural and botanical forms attain a lovely balance of the visual and tactile in her designs. A unique blending of color relationships with texture and refined sculptural elements defines her modern yet organic style of jewelry. New to lapidary, she has been learning to cut and polish stones for her jewelry. Mimi is the recipient of the prestigious American Gem Trade Association's Spectrum Award.
SHOP MIMI'S WORK
drawing on botanical studies and exquisite materials to create modern classics
SHOP MIMI'S WORK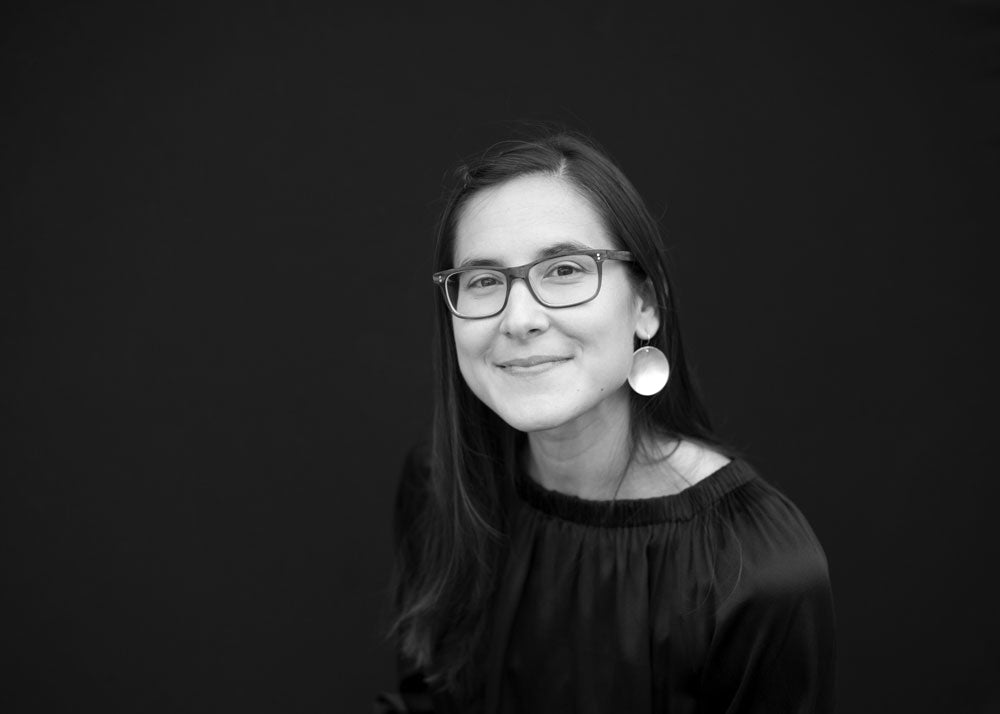 Heather Guidero
The open skies, animals, and agriculture of Heather Guidero's home state of Indiana inspired an early love for drawing, which evolved into a fascination with jewelry when she ventured into a community arts center class. Heather went on to formally train at Rhode Island School of Design, after which she worked as a goldsmith for renowned jewelry company Reinstein/Ross in New York. In 2005, she launched her namesake collection based in Providence, Rhode Island. Elements of modernist design, fashion, and urban architecture inspire this ethically-sourced gold and silver collection, with select pieces accented by diamonds or colored gems. Heather's unique explorations of volume, movement, and pattern transform into personal and interactive sculpture on the body.
SHOP HEATHER'S WORK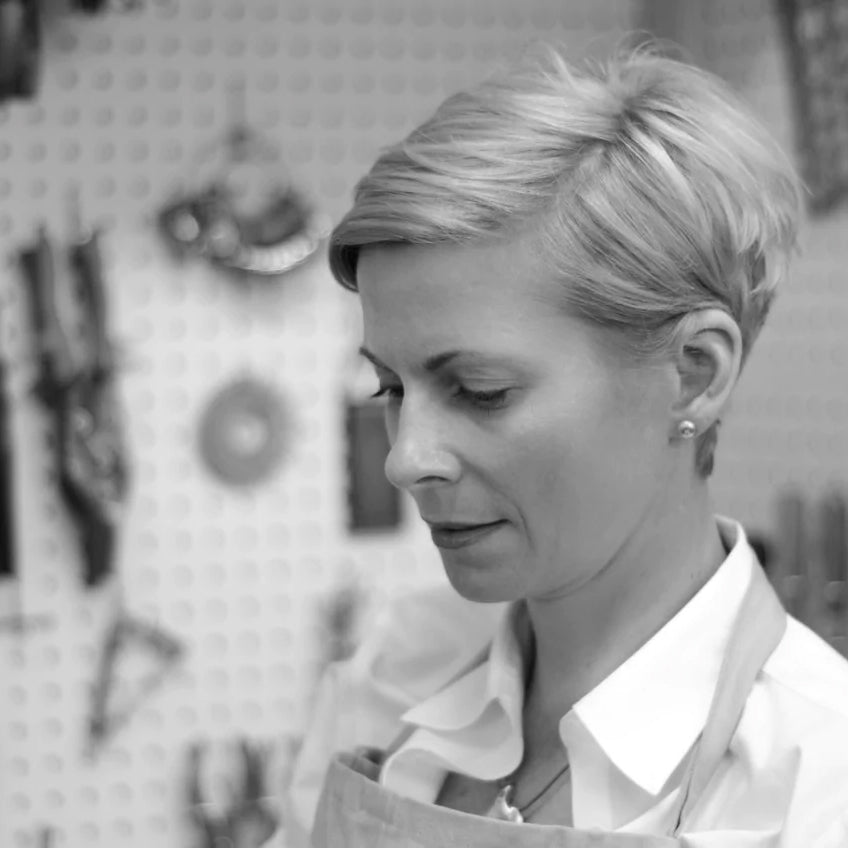 Judi Powers
Judi Powers was born and raised in Chester County, PA, surrounded by flowers and fauna. As a teen, she studied art history in New York City before a successful career in book publishing. Following September 11th, she began recreational jewelry classes as a way to create with her hands and heart. Ten years later, she pursued intensive training at the Fashion Institute of Technology, NYC, earning her AAS degree in Jewelry Design and honing her skills through further jewelry fabrication studies. Judi lives and works in the Hudson River Valley, borrowing shapes from nature and transforming them to make them intimately and infinitely wearable. With sustainability as her goal, she works exclusively with recycled and reclaimed precious metals. Conflict-free diamonds and stones with unusual characteristics are hand selected for a collection that is comfortable, effortless, and timeless by design.
SHOP JUDI'S WORK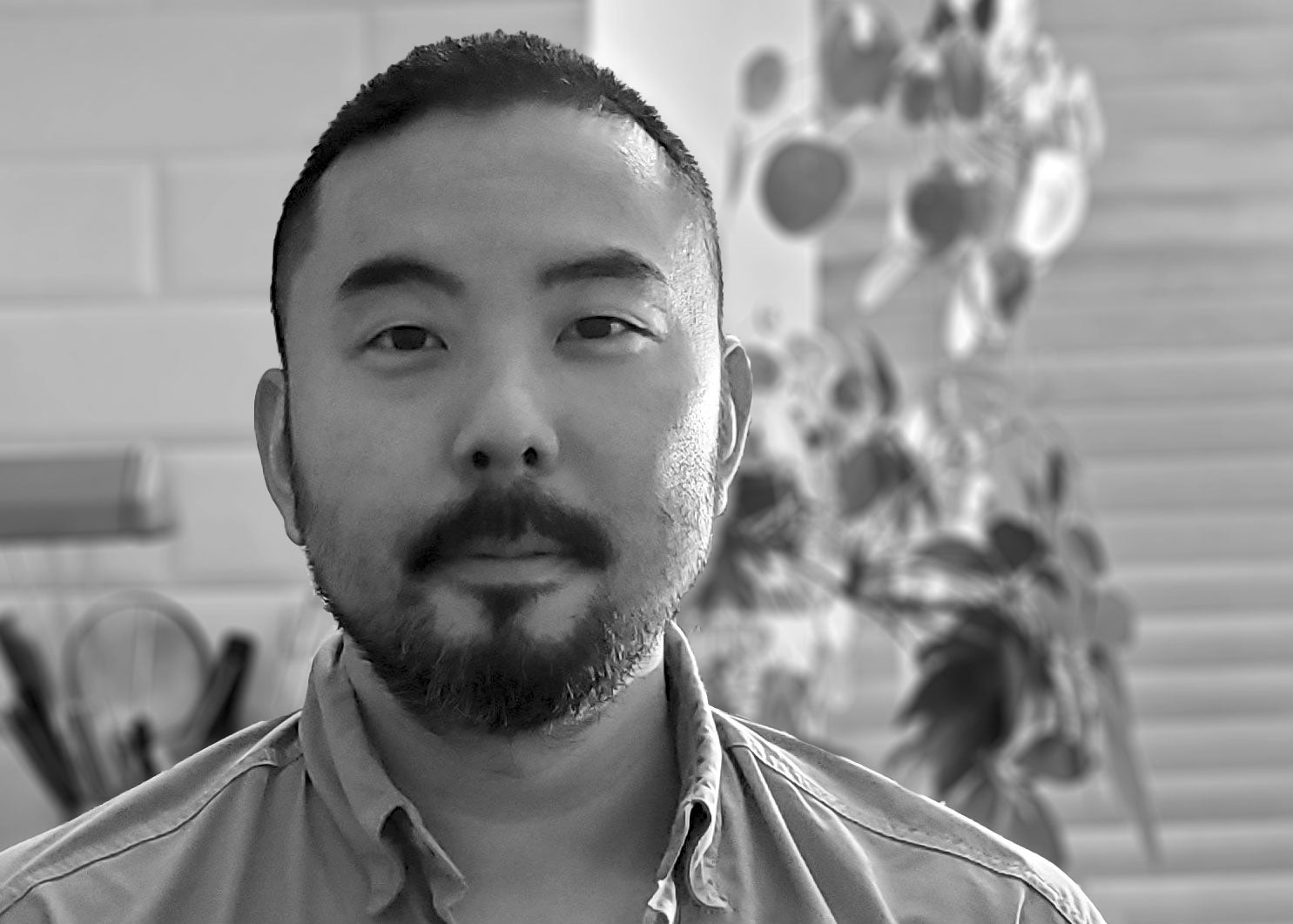 S. Yamane Studio
Shane was born in Hawaii and has spent the last 20 years in New York. He founded S.Yamane Studio in lower Manhattan in 2008, where he has been creating a collection of timeless pieces that balance form, lightness, and strength into wearable heirlooms meant to last for generations. Largely inspired by the memories of growing up in the islands, this sensitivity to the organic movements of the land, sky, and sea are distilled into the uniquely modern jewelry and hand-carved stones he creates.
SHOP SHANE'S WORK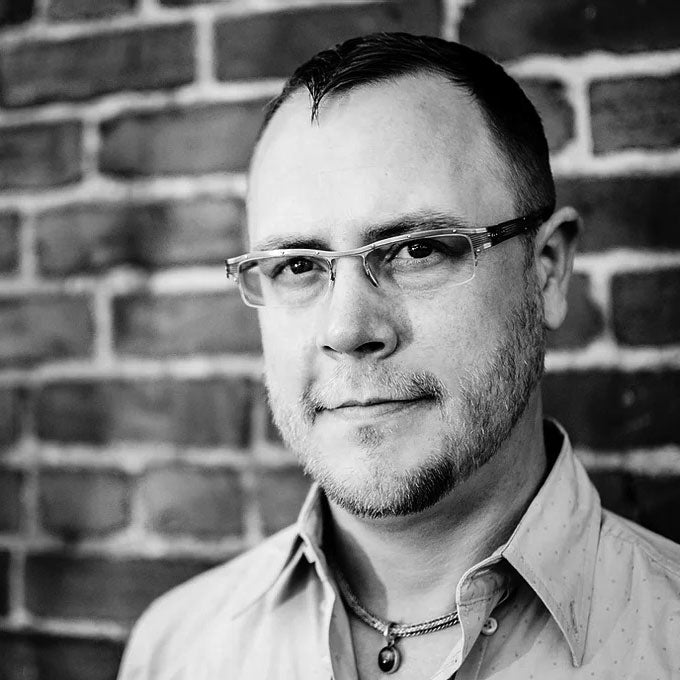 Sam Woehrmann
With a lifelong intrigue of gemstones and an interest in mathematics, Sam was lured into the metal arts. Learning to manipulate metal and work with stones has led his work into what it is today. He finds not only the amazing colors gems produce, but also their raw crystal structures, intriguing. The use of this and different color combinations of metal alloys lets him explore designs in shape as well as depths along another plane of vision. Being influenced by Earth's creations and urban backdrops gives his work a strong geometric and industrial look. His jewelry training comes from numerous schools and a multitude of instructors from around the world. Having worked in the studios of two accomplished goldsmiths also molded his work into the style he presents today. He lives and works out of the Castro District of San Francisco.
SHOP SAM'S WORK
showcasing bold, colorful stones in a mix of metals for a modern yet enduring line
SHOP SAM'S WORK